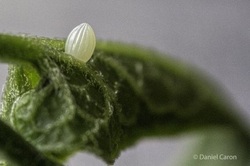 Soon it will be that time of year when Monarch Butterflies begin their long migration to Mexico. I have seen very few Monarchs throughout the summer months this year.
It was surprising to observe yesterday a Monarch laying two eggs on the leaves of a small Green Milkweed Vine (Matelea reticulata), which I did not know was in the Milkweed family and also did not know served as a host plant for Monarchs. This plant identification mystery was solved for me by my neighbor (a Master Gardener) and some online searching (
http://davesgarden.com/guides/pf/go/69156/#b
).
The area surrounding the small vine had plenty of young, Common Milkweed plants. I typically find Monarch eggs on these plants. After searching the area, no eggs were found on any of the Common Milkweed plants. Why the Monarch would lay two eggs on this vine and not Common Milkweed has me wondering.
This photograph is an image of one of the Monarch eggs on the Green Milkweed Vine.